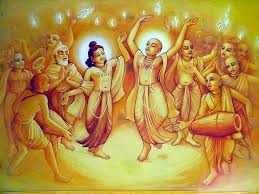 Kirtan: Kirtana practice involves chanting hymns or mantras to the accompaniment of instruments such as the harmonium, tablas, the two-headed mrdanga and hand cymbals (karat alas).
One night she attends a Kirtan.
She holds onto her warm tea, in a clear glass jar with a soft white handkerchief delicately  wrapped around it.
She lays out a small wool rug and a beautiful cushion. And takes off her chunky black cable knit sweater.
Her  black mineral ring sparkles in the candlelight.
She sits by the door and waits for the the band to play.  She makes eye contact with the sitar player and the harmonium player. He is the lead and sings like an angel. However she still prefers the sitars player voice.
She opens her lips and begins to sing softly to herself.  Singing to meditate. To release the emotion of the worlds troubles.  Of her troubles. Tears gently stream down her face.
She keeps her eyes closed as to not flaunt this rare state of expression.
Songs change and she feels more uplifted, she begins to rise up off the floor. Allowing the drums and voices in the room to move her body.
When the women are asked to sing, their voices are so pure- she joins them.
Feeling a deeply repressed feminine energy awaken.
She can't help but feel utterly moved when the men sing back, so strong their voices move through every fiber of her being.
She is nostalgic for such an ancient ritual in a modern world.
Although trying to go un noticed, she is noticed. For the healthy glow of her hair and skin, the physical health of her body and the look of ease on her face.
Secretly… her favorite part came at the end, holding her neighbors hands.  Sitting next to each other singing one last final AUM together.  Feeling the strength in her hands leave her and reassure the others.
She slips away in the night making no more sound. Only filled with song.